Structural Bearings
Over the past nearly 40 years, GRANOR® has supplied nearly 1,000,000 lineal metres of Slipjoint to projects throughout Australasia, South East Asia, the Far East, and Middle Eastern countries. The current SJJ Series Slipjoint is the result of continuous development from the original Series "CC" introduced in 1972.
Slipjoint Application Areas
Corbel/slab interfaces where a low friction sliding interface is required. Granor® Slipjoint provides a predicable low co-efficient of friction at the interface. Between the corbel and the slab.
Centralized Load Transfer
Ensures that the load transfer is correctly through the centre of the corbel, eliminating any chance of fretting of the corbel edge due to settlement and / or rotation of the slab.
Rotational Capability
The very nature of the centralized elastomeric bearing strip automatically provides load transfer to the corbel away from the edge of the seating. Live load rotation / deflection of the slab or deflection by means of settlement of adjacent columns/walkways/walls/piers, fretting of the concrete is eliminated by the use of GRANOR® Slipjoint.
Noiseless
Continual shortening and / or thermal movements of the slab can build up until slippage occurs at the rough concrete interfaces complete with a creaking or cracking sound. Such is eliminated by the use of the noiseless SJJ Slipjoint. Important in "quiet" buildings such as recording studios, hotels, hospitals, or funeral parlors.
Marking / Labeling
In order to easily identify supplied items, part numbers and intended location of the product, is clearly marked by way of part number and installation location.
Offset Designs
Slipjoint can be supplied with the stainless steel top offset compared to the elastomer bearing strip thus providing for what is typically greater shortening due to shrinkage and thermal contraction than expansion.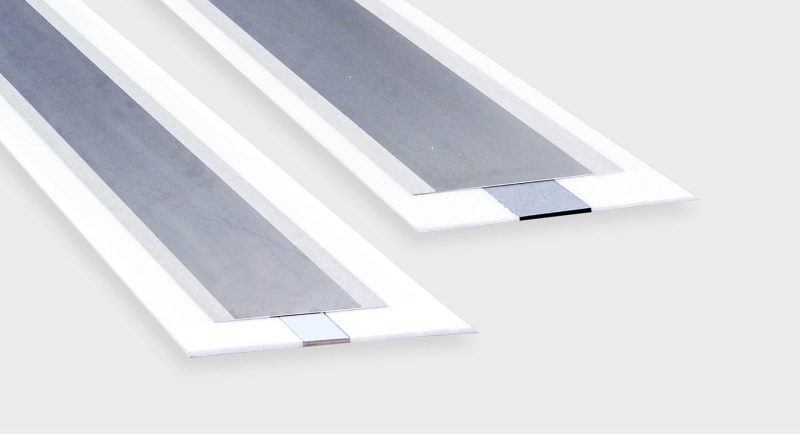 Cutting to Length on Site
Can be cut to length on site – however it is recommended that Granor® supply units of the exact length required.
Packaging
In twin cushion, stiff cardboard boxes – clearly labeled with site specific identification – Typical packing between 25 and 30 metres per carton.
Easy Installation
Detailed instruction included in every carton. Typical placement is on a preferably wood float concrete surface.
Recommended Minimum Width of Slipjoint
The product table shows a suggested minimum practical seating width applicable to each size of Slipjoint. The designer must ensure that if such narrow Slipjoint is used, that load transfer between the slab/corbel or slab/beam, is adequately addressed. Load transfer must be within the reinforcement frame.