Granor® supplies a diverse client base encompassing road and municipal authorities, major infrastructure contractors, mining operators, large commercial builders, concrete repair contractors and industry suppliers.
Granor® holds a portfolio of registered designs and trademarks for the range of high technology products that it manufactures. In addition to this catalogue of proprietary products, the skilled Granor® team offers a custom design and manufacturing service.
The performance of Granor® structural Bearings complies with the appropriate Australian or international design codes, frequently followed by National Association of Testing Authorities (NATA) verification.
Quality
Standards
Since its founding, Granor® has operated to world's best practice standards – maintaining leading edge product design and engineering to meet Australian and international approvals and construction codes.
Continuous improvement
Granor® was among the first Australian companies in its field to earn accreditation in accordance with AS/NZS ISO 9001:1994. Granor® continues to update its quality compliance as revised codes are released.
Accreditation by Lloyds Register Quality Assurance Limited is currently in accordance with ISO 9001:2015 and AS/NZS ISO 9001:2016. This was achieved in March 2018.
Granor has access to test facilities with capacities up to 19,000kN compressive load and 2,500kN lateral load. Together with National Association of Testing Authorities (NATA) accreditation in accordance with Items 13.44.41 Structural Bearings and 13.28.61 Elastomeric Bearings, this enables Granor® to constantly performance monitor its Structural Bearing product range.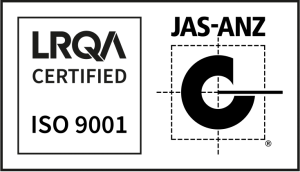 Established in Melbourne, Australia in 1972, Granor Rubber & Engineering Pty. Ltd. has grown into a leading designer and manufacturer of elastomeric structural Bearings and expansion Joints for both the Australian and international markets.
Modern technology
During the 1960s there were significant advances in bridge design. As short, single span, simply supported systems were superseded by longer continuous decks, new products were required for the increasing load and movement ranges generated.
The simple steel fabrications previously used as bridge Bearings offered limited capacity for expansion and contraction of the superstructure. These devices were difficult to install, required regular maintenance, and could induce uneven stresses into the structure.
Expansion joints were typically compression seals or round neoprene tubing, typically having limited movement capacity. These limited movement expansion joints were not suitable for the developing design technology of continuous decks.
Granor® recognised early that new polymer technology provided performance and cost benefits for the industry. The young company pioneered "rubber" or "soft materials" (elastomers), often used in conjunction with Polytetrafluoroethylene (PTFE), as mechanical devices to provide cost effective solutions for the evolving new bridge designs.
Among Granor's early major contracts was the design and supply of elastomeric laminated bridge Bearings for the Chandler Highway Overpass on the Eastern Freeway in Melbourne. Constructed in 1975, Granor supplied 28 elastomeric Bearings measuring up to 780 mm diameter by up to 220 mm thickness.
At the time, these were among the largest such Bearings manufactured in Australia. Performance and compliance testing was done with a 500 ton universal test press.
From these designs, Granor® developed a growing range of large elastomeric Bearings, high capacity structural Bearings, such as the Pot Type with PTFE sliding surfaces, and larger movement expansion Joints.
Robust, long life products
These new products were robust and provided long life to meet the needs of modern construction methods. Customers across the globe quickly realised that the new Granor® elastomeric technology delivered significant functional improvements and savings.
In recent years, as infrastructure built during the 1960s and 1970s has begun to require substantial maintenance (particularly the expansion joints), Granor® has introduced specialist products to meet this growing need.
For the replacement of expansion Joints, such as Transflex and Compression Seal types, the Granor® SSI / XJS® system is an industry first. It allows the staged installation of the new joint with minimal interruption to traffic. Installation can be completed comfortably in the "night time" traffic window, an important benefit considering that most of these structures now carry greatly increased traffic density.
Through its continuous development of state of the art elastomer technology, Granor® enables new, advanced construction techniques to become reality.