Expansion Joints – Small Movements
Structural MARINE GRADE

aluminium seal retainers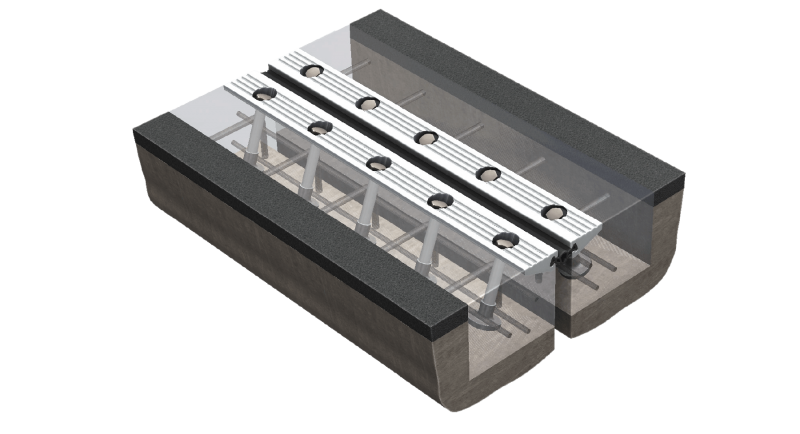 The GRANOR® AUSFLEX® AC-AR Expansion Joint System is manufactured in Australia by Granor. It utilises a proven design of a structural marine grade aluminium seal retainers, a tensioned bolt cast-in fixing system, and the option of two styles of heavy duty elastomeric glands capable of movements of up to 125mm.
Key Features
Ease of installation.
Side Retainers are extruded from structural grade aluminium. Movement capacity up to 125mm.
Two styles of Elastomeric gland (Flush or Drape).
Flush Profile gland limits build up of debris in joint.
Gland can accommodate vertical misalignment and limited skew angle.
Galvanised M20 Gr.8.8 H.S.S. Fixings are used.
Deck or Footpath profiles can be fabricated to match kerb or parapet upturn sections.
Footpath cover plates can be provided if required.
Smooth Ride due to flush finish with trafficked surface.
Water tight jointing system.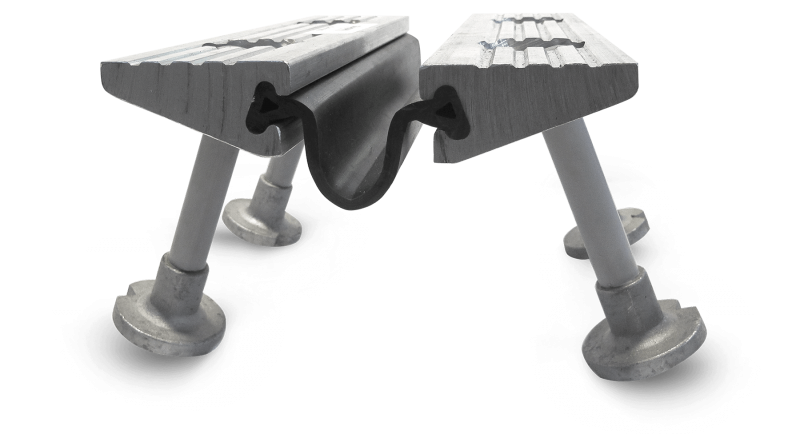 Seal Retainers
The GRANOR® AUSFLEX® AC-AR Expansion Joint System seal retainers are extruded from heavy duty structural marine grade aluminium. The alloy yield strength is similar to mild steel and the impact energy required to yield the retainers is far higher than that for mild steel of equivalent size.
High Tensile Fixings
A tensioned anchor system using M20 P.C. 8.8. galvanised H.S.S. bolts to AS-1252, into a specially machined and sealed female threaded ferrule, permits torqueing per AS5100, typically by "snug" plus ½ a turn. This retention system permits lifting and resetting of joint if required due to bridge deck rehabilitation. For compliance with AS5100.4 standard M20 fixings at 200mm centres are required.
Elastomeric Gland
There are two configurations covering different movement ranges of the central elastomeric gland with movements up to 125mm. Both systems use the same time proven male / female interlocking earlobe system of retention.
Type "D" (Drape)
The Drape seal is a single membrane type design which utilises a thicker elastomeric section and is preferred by some authorities. If used in footpath areas an aluminium cover plate is recommended.
Type "F" (Flush)
The Flush multi membrane type seal is designed to exclude build up and hence limit compaction of road debris in the joint opening. This multi membrane configuration also enhances long term watertightness. If used in footpath areas an aluminium cover plate is recommended.
Expansion Joints – Small Movements
Expansion Joints – Small Movements